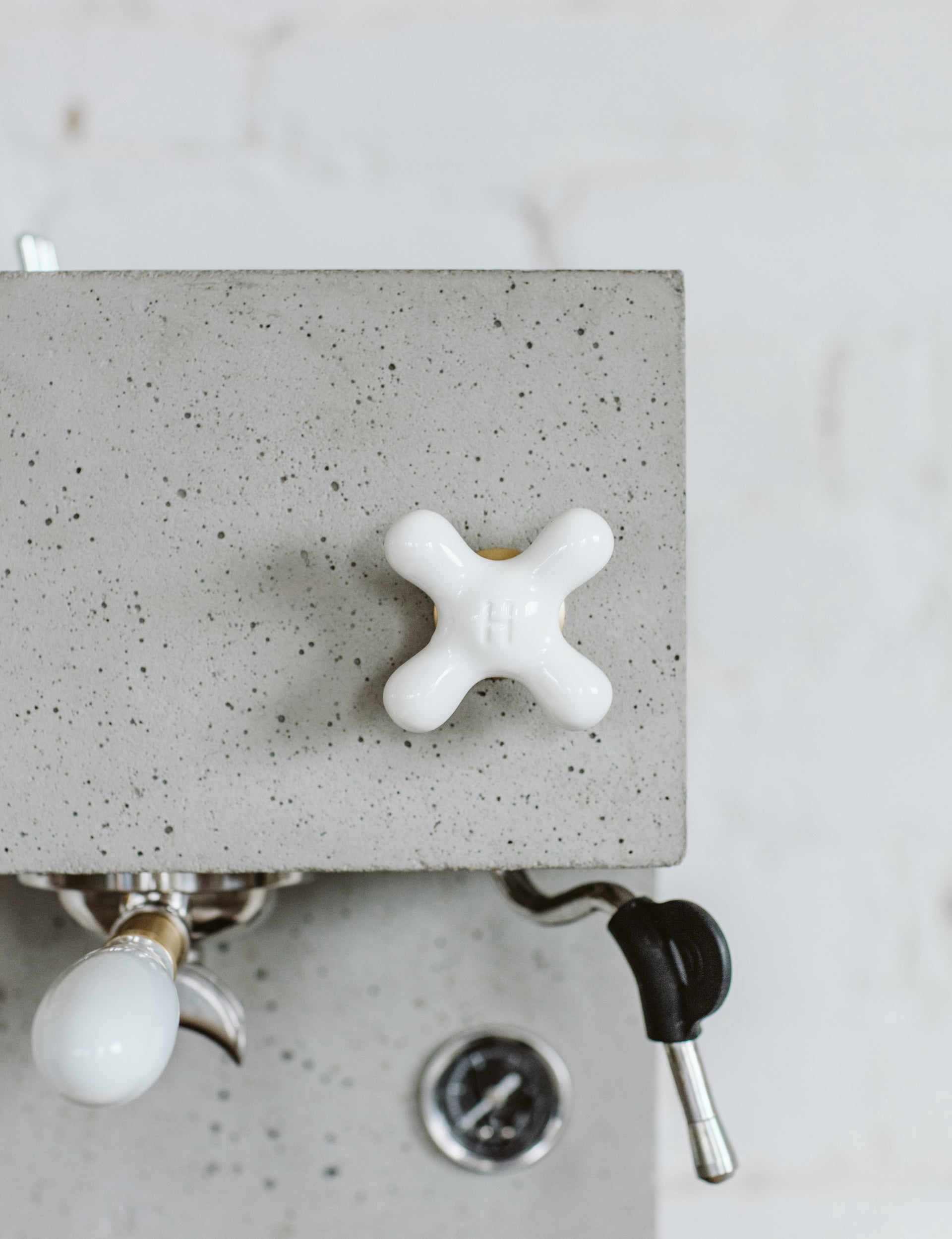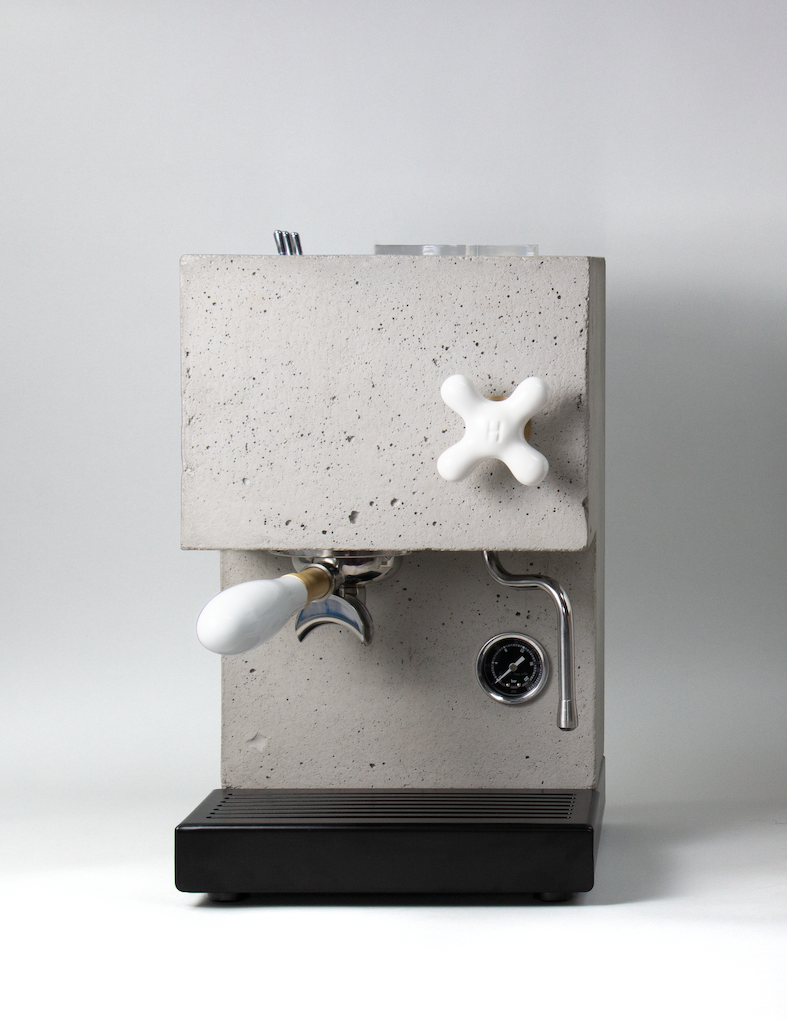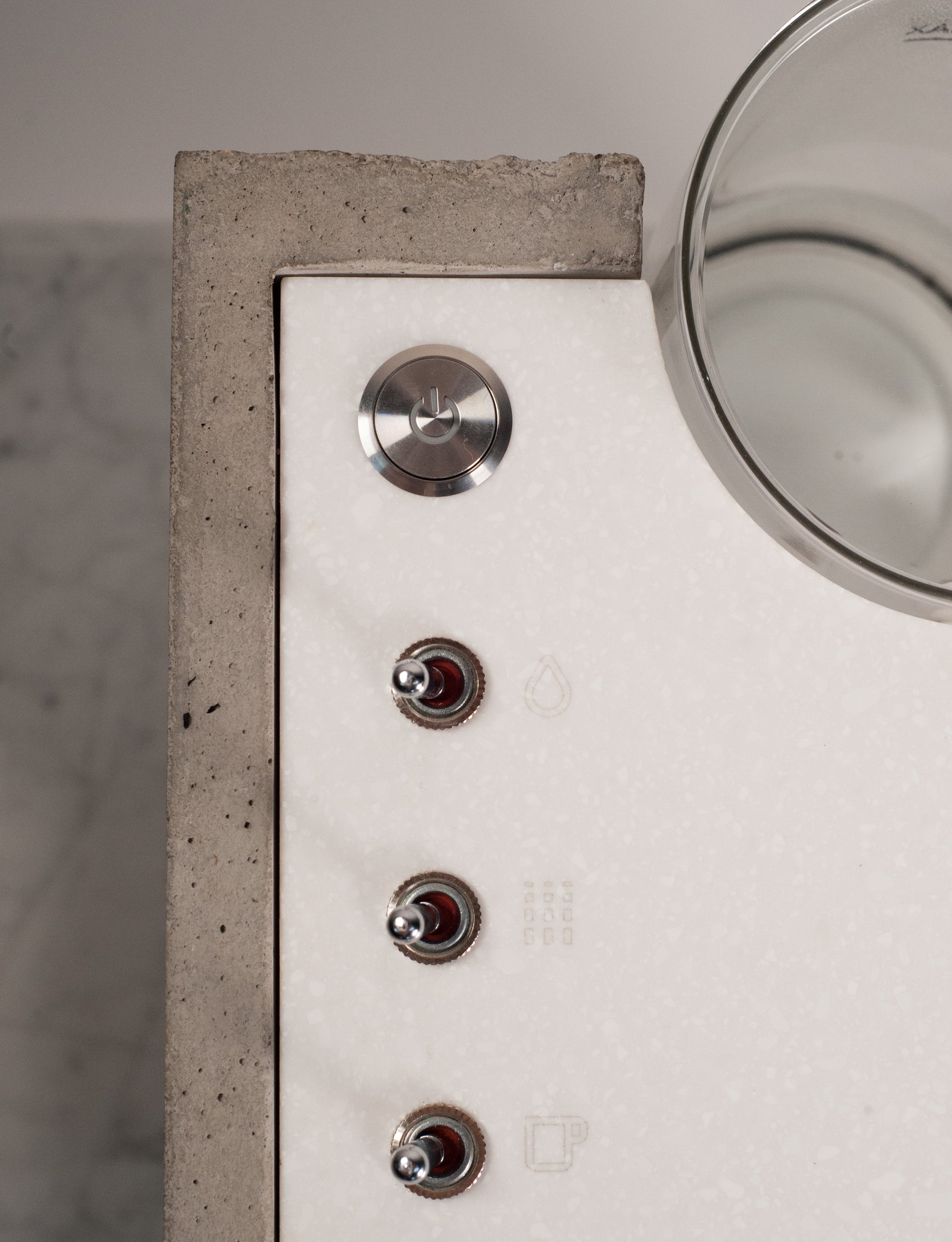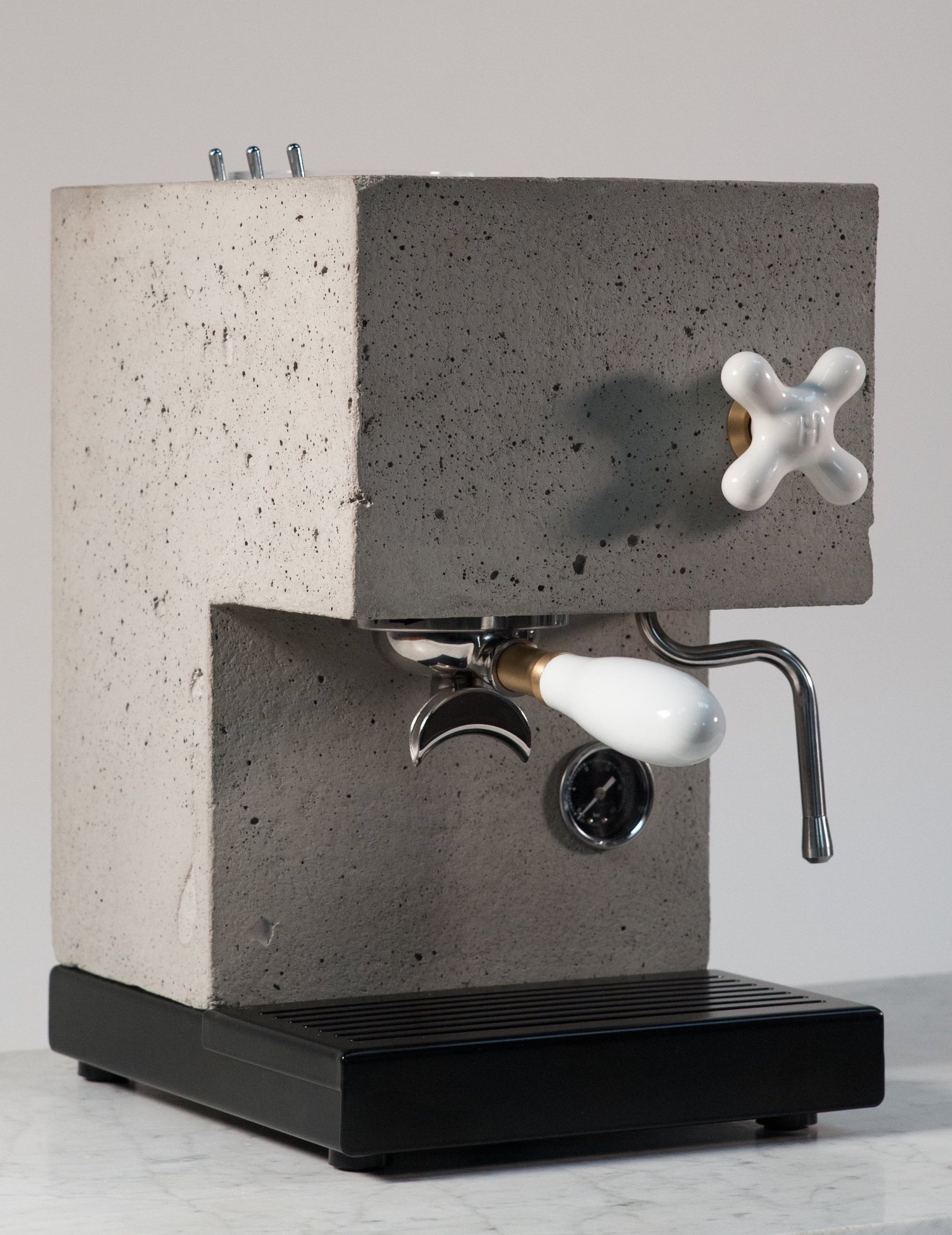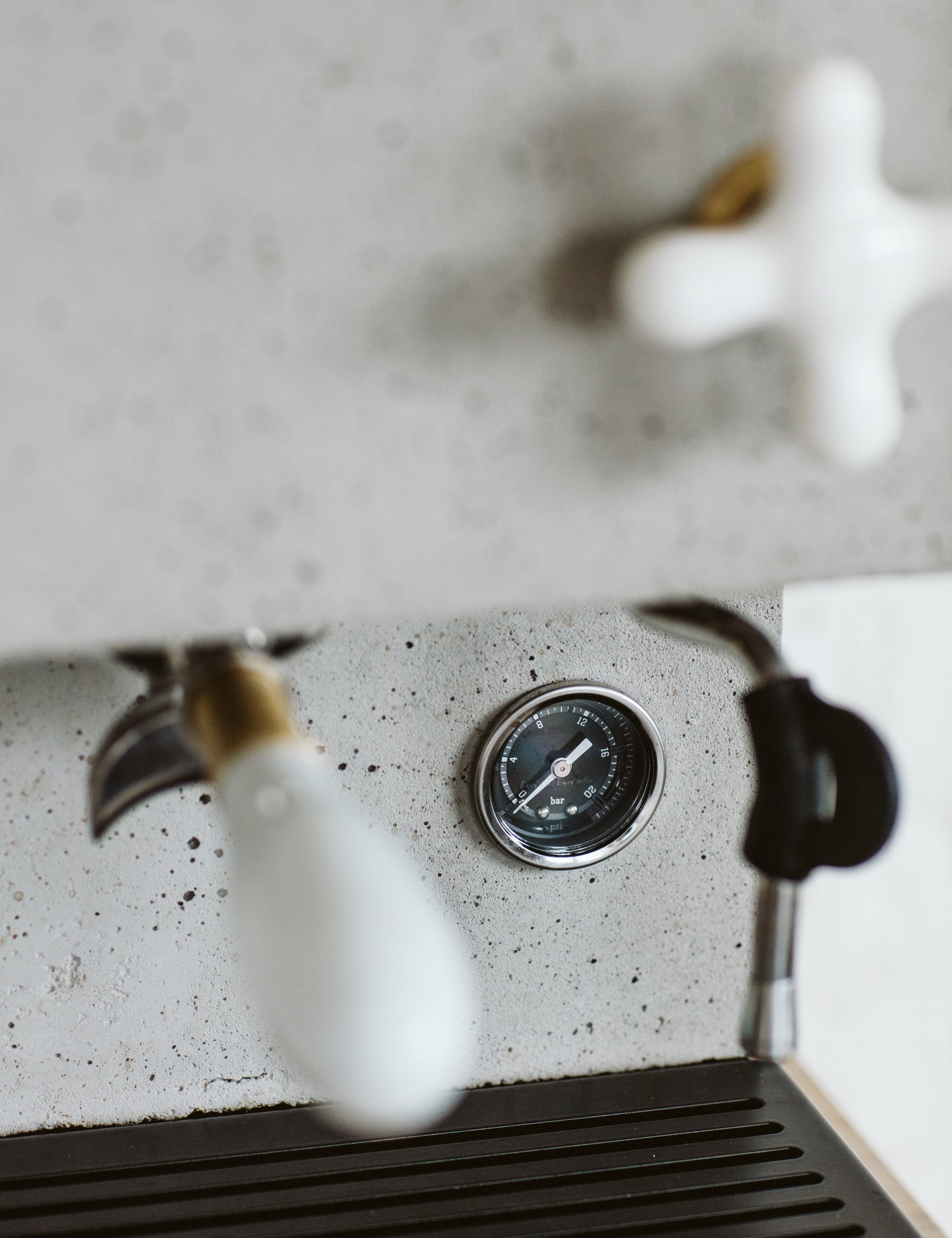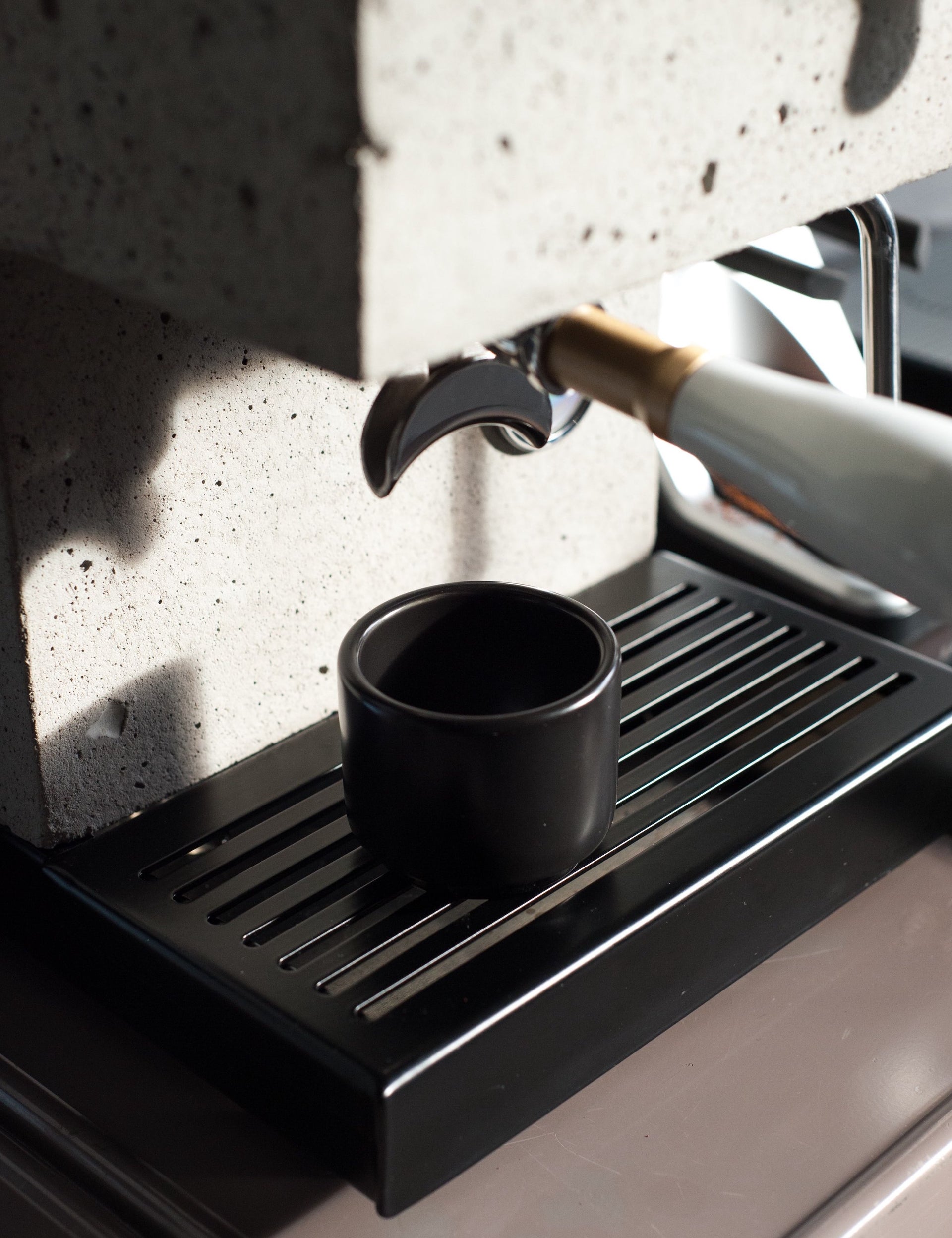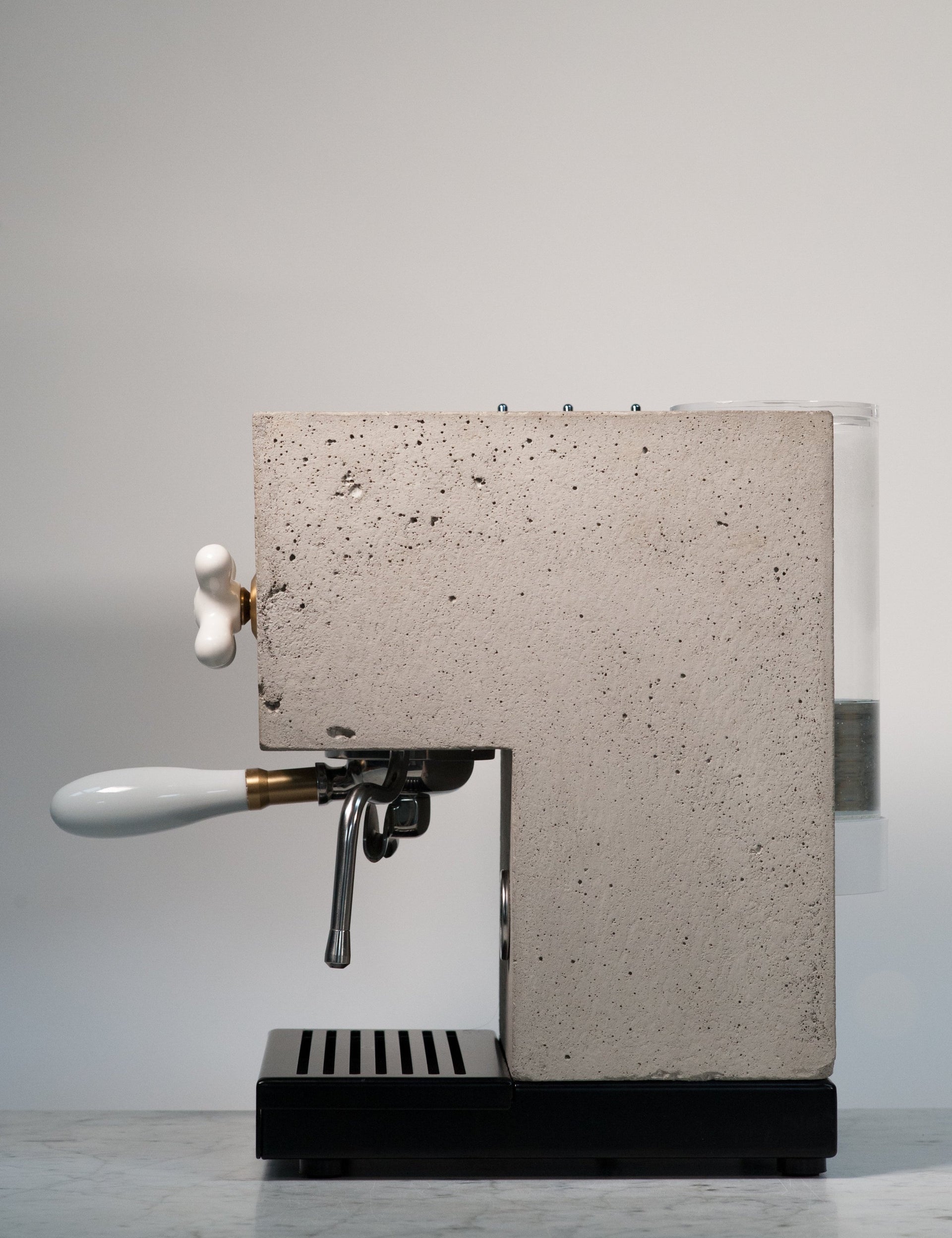 The espresso machine with a hand-cast concrete shell. AnZa Concrete features porcelain touch-points + powder coated steel and brass highlights, resulting in a kitchen countertop design statement which happens to also make high-quality, delicious espresso. 
Get brutal with AnZa Concrete
Machine Details:

AnZa Concrete

The concrete shell has been treated with a sealer to protect the surface. Due to its rough and porous surface the concrete will naturally develop a patina over time which will be impossible to prevent or remove. Wiping down areas of the shell which are in contact with coffee grounds and water will reduce the build up of patina.

The drip tray is powder coated steel. Powder-coating is tough, but can scratch, so we recommend to not use ceramic cups with unglazed bases as the ceramic can scratch the powder-coating. Glass cups are recommended.

The top plate is easily cleaned with a damp cloth or a Scotchbrite® pad and household cleaner.

Every AnZa comes with the following:

16 fl/oz / 300ml low nickel 304 stainless steel boiler_1350W heating element

Ø58mm Ceramic and brass Portafilter_double shot basket

Steam wand with detachable tip_3 openings

15 bar ULKA pump

9 bar pressure limit valve

Pressure gauge

Glass water tank

Water tank lid

Instruction manual

Detachable power cord (standard is USA / Europe plug, but we can send you whatever fits your wall socket!). The power cord can be unplugged from the back of the machine and replaced with a cord that works with your power outlets.

Backflushing disk

UL + CE Certification by Waltec

PID controlled brewing temperature_199.4F (93C)

Amazing customer service!
Warranty & Returns:

Warranty
AnZa offers a 2 year limited warranty for all products sold in the EU, and a 1 year limited warranty for products sold in North America. Our warranty covers any manufacturing or workmanship defects but does not cover damages that may have resulted from normal wear and tear*, misuse/abuse, or modification of the product.

AnZa will not be liable for any damages that may result from the use of any Anza product. Our warranty does not cover the repair or replacement of property such as other devices and/or other personal property. 

AnZa allows one (1) warranty claim per purchased product if said product is within the warranty period.

 *Concrete, brass and wood components will require care to stay in pristine condition. Your maintenance will evolve AnZa's appearance over time, as your AnZa ages gracefully into a unique piece. See our FAQ for care details.

Returns

We really want you to be happy with your machine and will work hard to make you satisfied with your purchase! If you are still not satisfied we offer a 30 day return period from the day you receive your machine. For sales in North America and Europe we charge a $250 restocking fee which covers shipping back to our distributor and checking the machine over. When you order an Anza you will notice the robust packaging its delivered in, if you decide to return your machine it will need to be returned in the same packaging. If you no longer have the packaging we can send you replacement packaging against a $50 fee.

We do not offer returns on sales outside of North America and Europe.
Payment Options:

We're proud to accept all major forms of payment, including credit cards, debit cards, PayPal, and more. However, at this time, we do not accept cryptocurrency as a form of payment. 

If paying for your espresso machine all at once isn't possible, no problem! We offer financing through Klarna!


Shop now. Pay later with Klarna. 

We're excited to announce we have partnered with Klarna to bring you new ways to pay at checkout. 

Here's how it works: 

Step 1 

Add products to your cart and select "Klarna" when you check out 

Step 2 

Enter a few personal details and you'll know instantly if you're approved 

Step 3 

Klarna will send you an email confirmation and reminders when it's time to pay and you can manage your orders and payments in the Klarna app.